We have managed to secure a number of Great Britain stamp yearbooks in excellent condition still in their original wrappings and have never been opened.
If you are looking for that special gift for an anniversary or birthday why not consider one of these books for a particular year with meaning to you.  They are always a great way of show all the stamps for that year with lots of interesting facts too.
We can offer these for sale at just the face value of the stamps inside, what a great way to get the whole year of stamps for a fraction of the catalogue value.
We have a great range from 2005 – 2014 inclusive
2005   No 22     SG £95                                 Our Price  £52
2006   No 23     SG £100                                                  £58
2007   No 24     SG £190                                                  £77
2008   No 25     SG £125                                                  £60
2009   No 26     SG £130                                                  £76
2010   No 27     SG £140                                                   £95
2011   No 28     SG £165                                                    £95
2012   No 29     SG £140                                                   £86
2013   No 30     SG £180                                                   £87
2014   No 31     SG £175                                                    £82
The other way of getting a whole years presentation of British stamps is to look at the Royal Mail Yearpacks which also offer great information about each set of stamps and allows you again to have the whole 12 months stamps all in one lovely pack.  We have a number of these and again we are happy to sell them for just the face value.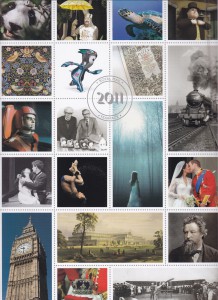 We also have a wonderful book to offer "SNOWDON SHEPHERD" by the great Keith Brown this is number 223 limited edition of 2000.  There are also a set of Royal Mail stamps depicting winter scenes in the British Isles inside this signed edition, as Keith Brown designed these stamps in January 1992.  It's not often that we come across this type of material and would love for someone to enjoy this book. Price £30 – One Only Available!
We will also include free UK delivery on all of the above items.
PLEASE CONTACT OUR OFFICE 01925 231151 OR EMAIL US  Philangles@btinternet.com  IF YOU WOULD LIKE ANY FURTHER DETAILS ON THESE OR WOULD LIKE TO PURCHASE THEM.  Credit card payment prefered for these sales.