Welcome to sale 405 December 2021
We recently attended Stampex in London, our national stamp show.  This proved to be a success, not just for ourselves but for the industry in general. Yes, footfall was down but those collectors that did visit were keen to buy stamps and to meet like minded people and to see the fine exhibits. Lets get 2021 behind us and I'm sure going forward more and more collectors will attend these fine shows up and down the country. We are booked into all the major shows throughout the spine of the UK from Perth to York, Stafford, Salisbury plus arterial shows at Liverpool, Manchester & Leeds. You will find us at most of the bigger events.
Back to sale 405 – highlights: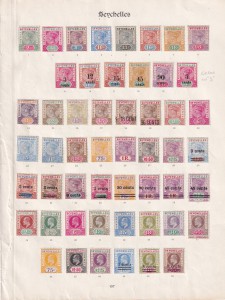 THE IMPERIAL POSTGE STAMP ALBUM (first edition) for issues 1840 to 1928 offered as 240 lots with intact British Commonwealth country collections & fine single stamps with high values. This collector spent over 50 years collecting stamps in this amazing album, many countries he managed to complete. The collection is full of high values & interesting older ranges. Highly recommended.