Welcome to a milestone, hitting 400 sales over a thirty year period is a sizeable achievement, in that time we have never missed a monthly sale, we've even added small additional sales over that period making approximately 450 sales in total.
We thank you for your constant support.
We have evolved to offering viewings of lots on WhatsApp & many single items are scanned onto our website. We have bolted a shop onto our website where you can buy British postage at below face value, helping you save money!
Sale 400 features some substantial offerings.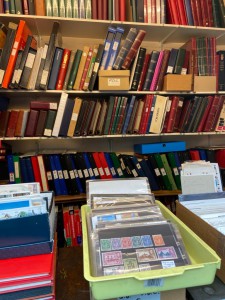 THE CONTENTS OF AN ENTIRE STORE. We had to hire a van to bring this lot back to our office. The lot is colossal & features over 400 volumes of material. This material is featured throughout the sale. The lot consists of intact collections, much GB including stamp booklets, British Empire & general material that you would typically find in a stamp shop.
STAMP EXHIBITIONS
We are delighted to update you with the following details, we will be attending CAPEX 2022 to be held in the wonderful city of Toronto. We look forward to meeting some of our Canadian clients as we will be there promoting Philangles.
Also see us at the following places:  York  (16/17 July 21)
Stampex – London (29th Sep – 2nd October 21)
London 2022 International (19/26 February 2022)
CAPEX 2022 – Toronto Canada (9/12 June 22)
We aim to be attending other shows throughout 2021 & 2022.
We look forward to seeing you soon.
All the best
Simon Carson & the Philangles team.