Welcome to our February 2021 sale which is bursting with interesting & unusual material.
This sale features the following: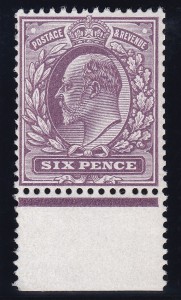 GREAT BRITAIN with rare postage stamps Inc the immensely scarce King Edward 7th 6d SG296 unmounted mint with certificate. This seldom seen stamp was on sale for just twenty four hours!
Penny Blacks including used on cover, high values Inc a fabulous 1913 £1 seahorse superb used plus collections including substantial ranges of stamp booklets.
BOXES & CARTONS of the world with plenty of material to sort.
Remember that we are here to help you if you require scans, photocopies or just information. You can call or email us.
Let's hope 2021 is a great year following the horrors of 2020.
Wishing you and your families all the very best.
Simon Carson & the Philangles team.