Welcome to our October sale which is full of interesting & new material.  During October see us at Scotex held in the delightful city of Perth.  There are over 30 dealers in attendance at the Scottish National show.
Back to this sale.
Highlights this month includes: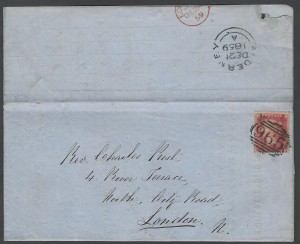 GREAT BRITAIN – An incredible postal history lot of 1857 church mails addressed & returned  from all over the UK with many of the entires "turned", meaning that they are entires used TWICE with Victorian stamps used on both sides. Many interesting and unusual with a plethora of cancellations from outer Scottish Islands to Home Counties.
Extensive interesting & unusual Great Britain and so much else throughout the sale.
If we don't meet you in Scotland we hope to meet you somewhere, someday at a regional show around the UK.
If we can be of any help please contact us.
Wishing you all the best.
Simon Carson and the team at Philangles.