It's that time of year again, what's historically known as the start of the philatelic season.  September is usually packed with auctions in London, our wonderful national stamp exhibition Stampex held at the British Design Centre in London and a host of other events.
Here at Philangles we are working closely with our clients to bring you more.  For the first time (in many years!) we will have a booth at Stampex and are hoping to meet many avid collectors.  We have also committed ourselves to taking a stand at Prague 2018 International Stamp Show.
Many companies pump out auction catalogues or load up ecommerce sites whilst we work closely with our customers and try to provide material difficult to source elsewhere (communication is paramount!).
Our September sale contains some marvellous sections including.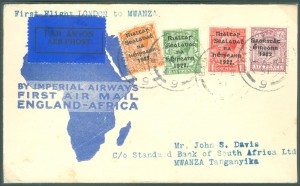 AIRMAILS WITH IMPERIAL AIRWAYS part two of this vast collection with rare acceptance flights and unusual routes of the 1930's displayed most informatively on old collectors pages, my favourite is the cover carried to Goa, Portuguese India (one of only about 20 covers carried!).  This portion features over 300 covers.
Plus our usual offering of worldwide collections, boxed lots and selected postage stamps.
We hope you enjoy this sale as we set to work on October's offering (these words are written in August!).  Remember, many items are scanned on the website and please contact us with regards to any lot or philatelic matter.
All the best,
Simon Carson and the team at Philangles