JUST DISCOVERED HAVING BEEN IN A NEW ISSUE GLASSINE SINCE 1967
Gibraltar 1967 5d mirror from the ship definitive's series with INVERTED WATERMARK as a corner plate block of four unmounted mint. This stamp has only previously been known in USED condition and is listed as SG 205bw.  This unique positional piece is to feature in a future Philangles auction.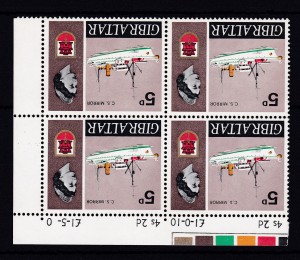 Visit www.philangles.co.uk for more details.