We have purchased a number of Great Britain stamp yearbooks all sealed and in good condition.
We only have 4 of these left,  and they are the following
           Year                        Catalogue Price        Our Price
1991   No 8                 £45.00                    £9.00
1994   No 11               £50.00                   £12.50
1997   No 14               £50.00                   £15.50
2002   No 19             £100.00                  £41.00
We will only charge £5 UK delivery on all orders.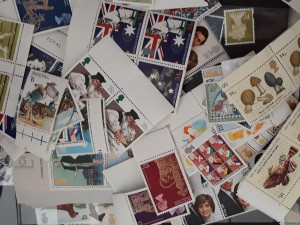 We have another supply of mixed postage bags,  £50 worth of stamps for just £35 and as always when we have these great offers of mixed bags there will be free UK postage.
Book 8                             Book 11                          Book 14                           Book 17
All in sealed but some are starting to split slightly.
PLEASE CONTACT OUR OFFICE 01925 231151 OR EMAIL US  office@philangles.co.uk IF YOU WOULD LIKE ANY FURTHER DETAILS ON THESE OR WOULD LIKE TO PURCHASE THEM. 
Credit card payment prefered for these sales.